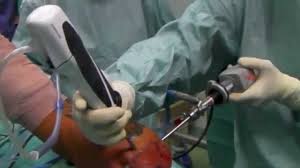 25 /102016
FRIIPOWER
HỆ THỐNG BÀO KHỚP KHÔNG DÂY - FRIIPOWER
Hãng sản xuất: Frii - Italy
FRIIpower® is a "breakthrough" product in the field of arthroscopic powered cutting instruments. It consists of two components: a reusable internal device containing the system core (the electric supply source, the power source and the control unit) and an external single-use operating body, capable to resect and remove soft tissue or bony tissue.
The result is a light and ergonomic handpiece , ready to use without preparation or sterilization, making the arthroscopic surgery more effective.
Standard functions:
Forward and oscillating mode for soft tissue and bony tissue resection.All functions are managed by hand control for a complete freedom to operate.
Enhanced Functions:
Rotating blade for adjustable cutting-edge orientation on target.Adjustable lever for fragments suction.
Wide selection of speed:
More than 6.000 rpm to assure high performance in every surgical condition. Seven pre-settings to resume the ideal speeds for specific procedures, letting you choose between 49 speed combinations.
Removable battery:
The high power brushless motor combined with a long-life battery, delivers plenty of power to assure the ideal torque required for all the arthroscopic procedures
Nhập khẩu và phân phối:
HQ MEIDCAL CO., LTD
Địa chỉ: Tổ dân phố 4, P. La Khê, Quận. Hà Đông, Hà Nội