Endoscope System
Endoscopes are in the centre of the minimal-invasive surgery. They bring the vision inside the human body, they make structures visible and deliver those images, surgeons need in order to perform a safe operation and to make the right decisions.
As an experienced manufacturer we are obliged to integrate the engineering progress constantly in our product development. Our rigid endoscopes are lens designed and precisely manufactured so that they fully support the today's high definition camera systems..

Shaver system – RF system and Pump
A clear display and an easy set-up comes first at the LUT, Vimex arthroscopy pump.
The shaver A500 allows a safe and easy handling and working for operations in large and small joints.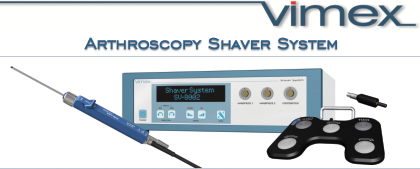 Instruments:

• Different types of handles
• Different jaws, as hook scissors, scissors punch, grasping forceps, hook probes etc.
• Different shapes as straight, curved right-left-up-down etc.


Endoscopes Arthroscopy:

- Diameter 4.0 mm
- Viewing Directions 25° / 30° / 70°
- Autoclavable : 18 minutes at 134° C / 273° F
- Wide Angle
- Compatible to System Wolf / Dyonics / Stryker / Olympus