Orthopaedic - Large Bone
The MDX MultiDrive system and System 6 is a heavy duty orthopaedic system suitable for large bone elective surgery, trauma and procedures. It is available with a choice of three power source options – aseptic battery, sterilisable battery and corded supply.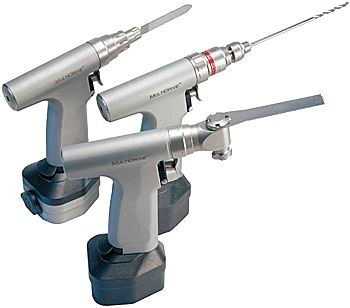 Orthopaedic / Extremities / Trauma - Small Bone
The Trauma Drive is a powerful, System 2000, Corless driver 2, 3 for small bone and light duty trauma surgery. The handpiece is powered by sterile or aseptic batteries or by a mains power supply via a low voltage corded module. These products is a versatile pneumatic straight case system for precision small-bone surgery, including podiatric, hand and wrist surgery.

Maxillofacial / Oral / ENT

The ECV ErgoPlus, Core Console is a versatile electric straight case system for precision small-bone surgery, including ENT, oral, hand, wrist and podiatric surgery. The slim perfectly balanced handpiece enables the surgeon to perform the most demanding surgical procedures with complete confidence