Orthopaedic - Large Bone

De Soutter and Stryker boasts a range of Large Bone surgical tools, available in ELectric/Battery with power supply units where applicable, as well as Pneumatic options.

The MDX MultiDrive system and System 6 is a heavy duty orthopaedic system suitable for large bone elective surgery, trauma and procedures. It is available with a choice of three power source options – aseptic battery, sterilisable battery and corded supply.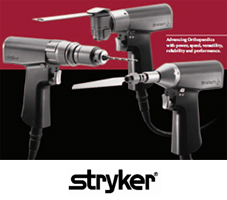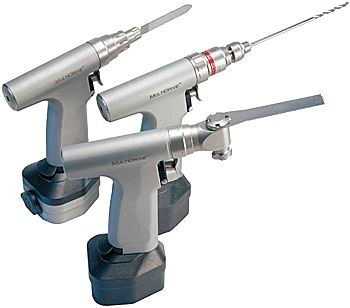 Orthopaedic / Extremities / Trauma - Small Bone

The Trauma Drive is a powerful, System 2000, Corless driver 2, 3 for small bone and light duty trauma surgery. The handpiece is powered by sterile or aseptic batteries or by a mains power supply via a low voltage corded module. These products is a versatile pneumatic straight case system for precision small-bone surgery, including podiatric, hand and wrist surgery.

Maxillofacial / Oral / ENT

The ECV ErgoPlus, Core Console is a versatile electric straight case system for precision small-bone surgery, including ENT, oral, hand, wrist and podiatric surgery. The slim perfectly balanced handpiece enables the surgeon to perform the most demanding surgical procedures with complete confidence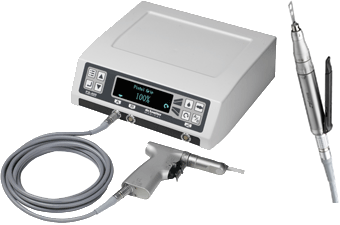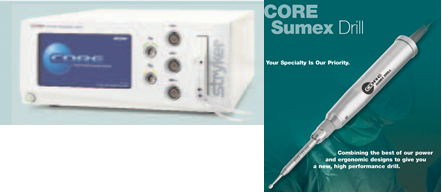 Cardiothoracic

The SDX-600 handpiece is suitable for primary sternotomies and the RDX-600 is recommended for revision sternotomies. They are available with a choice of two power source options – sterile battery or aseptic battery. For primary sternotomies the use of the DPX-677 reciprocating saw is recommended. The DPX-170 oscillating saw is suitable for revision sternotomies.

Neurosurgery / Spinal
The system offers the following features:
• 100,000 rpm pneumatic motor for smooth and precise cutting performance
• Super sharp, precision ground dissecting tools
• Extensive range of dissecting tools with numerous bur head shapes
• Ultra slim handpiece weighing just 99 gms and measuring 15mm in diameter
• Ergonomic handpiece design for minimal surgeon fatigue
• Simple tool free bur loading and hose piece changing mechanisms
• Optional irrigation system with fully programmable mode settings
• Progressive action foot control for precision speed control
• Also available with irrigation